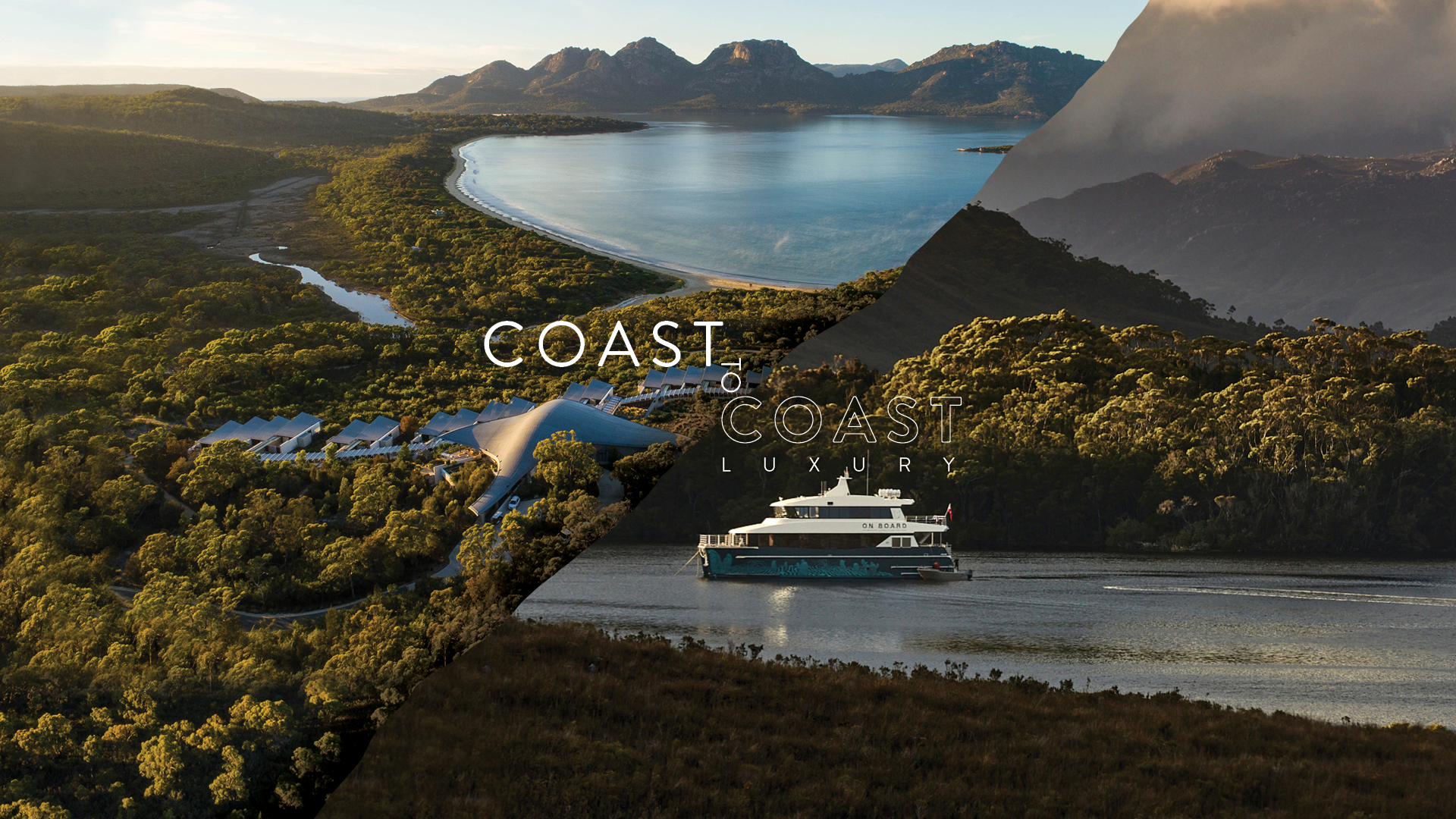 COAST TO COAST LUXURY - SIX-NIGHT EXPEDITION
Celebrating a new partnership with fellow Tasmanian luxury operator On Board, Saffire Freycinet is excited to offer a select series of expeditions combining small ship adventure through the remote southwest corner of Tasmania's Wilderness World-Heritage Area and a luxury stay at Saffire on the stunning east coast.
Set over six nights, the Coast-to-Coast Luxury expedition accommodates just 12 guests. An exclusive seaplane transfer links the three-night luxury cruise in Port Davey with a three-night stay at Saffire, plus returns to Hobart. This all-inclusive partnership offers seamless connections on the luxury package and a breathtaking aerial perspective of the island state and its sparkling coasts.
This exclusive new expedition combines the very best of Tasmanian luxury and wilderness, from the wilds of the remote southwest coast to the picturesque Freycinet Peninsula here at Saffire Freycinet.
To book this exclusive package, please contact Saffire Guest Services directly.
Coast-to-Coast Luxury departs on the four dates:
December 12 – 18, 2023
March 29 – April 4, 2024
May 4 – 10, 2024
December 7 – 13, 2024  NEW
Fly from Hobart on a Cessna Caravan seaplane direct to Port Davey to meet your luxury expedition vessel Odalisque III, a luxe home base for the next few days.
From On Board's brand-new expedition vessel, explore remote corners of Tasmania's World-Heritage-listed wilderness and become immersed in wilds few will ever reach, with daily walks with expert local guides and tender excursions exploring ancient rivers and remote bays.
Take to the skies via seaplane and fly across the state to the Freycinet Peninsula, landing on the shores by Saffire Freycinet. Enter the luxury lodge under soaring ceilings and take in breathtaking views of The Hazards mountain range and Great Oyster Bay.
Enjoy an all-inclusive menu of fine local foods and drinks, and an itinerary of guided experiences of the picturesque east.
From an up-close and personal encounter with endangered Tasmanian devils in the purpose-designed sanctuary, to the on-site Saffire beekeeping experience, or an afternoon tasting oysters waist-deep in the local marine farm.
The journey is complete with a return seaplane along the spectacular sparkling coastline back to Hobart.
Coast to Coast Luxury six-night all-inclusive package includes:
Seaplane round-trip flights from Hobart to Port Davey, Port Davey to Saffire Freycinet, Saffire Freycinet to Hobart.
3 nights accommodation on On Board vessel in either a Coastal Cabin or Southwest Suite
3 nights accommodation at Saffire Freycinet in a Signature Suite
All experiences, meals and non and alcoholic beverages from the generous inclusive list
Daily mini bar at Saffire Freycinet
Use of Saffire Freycinet Hobart airport lounge
Price starts from $27,000 inc GST per couple
Four departure dates from Hobart:
12 December 2023
29 March 2024
4 May 2024
7 December 2024  NEW
There are a limited number of spots available for each departure date.
LIMITED OFFER: Book before December 9, 2023 to received a $1,800 travel credit per couple for your journey to Tasmania. To book this exclusive package, please contact Saffire Guest Services directly.
Further information and booking conditions:
To explore more about On Board please visit www.onboardexpeditions.com.au
Maximum 12 passengers per departure.
All inclusive package price is $27,000 per couple in Coastal Cabin/Signature Suite combination. Price is $28,500 per couple in a Southwest Suite/Signature Suite combination.
Full payment is required 60 days prior to departure date.
Guests will need to ensure they have adequate travel insurance to assist with any expected delays or expenses incurred should there be an unlikely delay of departure.
If cancellations are made by the guest 31 to 60 days prior to departure, no refund will be payable for the On Board/flight transfer portion however full refund will be made to the guests for the Saffire Freycinet portion.
If cancellations are made by the guest 30 days or less prior to departure, no refund is applicable.
If weather delays out of Hobart result in a reduction of nights aboard the On Board vessel, missed nights will be refunded to the guest. Guests will need to book alternate accommodation in Hobart, with the assistance of On Board, at their own expense.
If delays out of Port Davey necessitate an additional night/s accommodation aboard the On Board vessel, this will be accommodated at no additional cost. No additional nights will be extended to Saffire Freycinet package dates.
A minimum of four passengers (two couples) are required for the package to take place. If four passengers are not booked prior to 45 days from departure, the departure will be cancelled and money returned in full.
Please note additional T&Cs with On Board apply if not specified above. Terms and Conditions | On Board (onboardexpeditions.com.au)