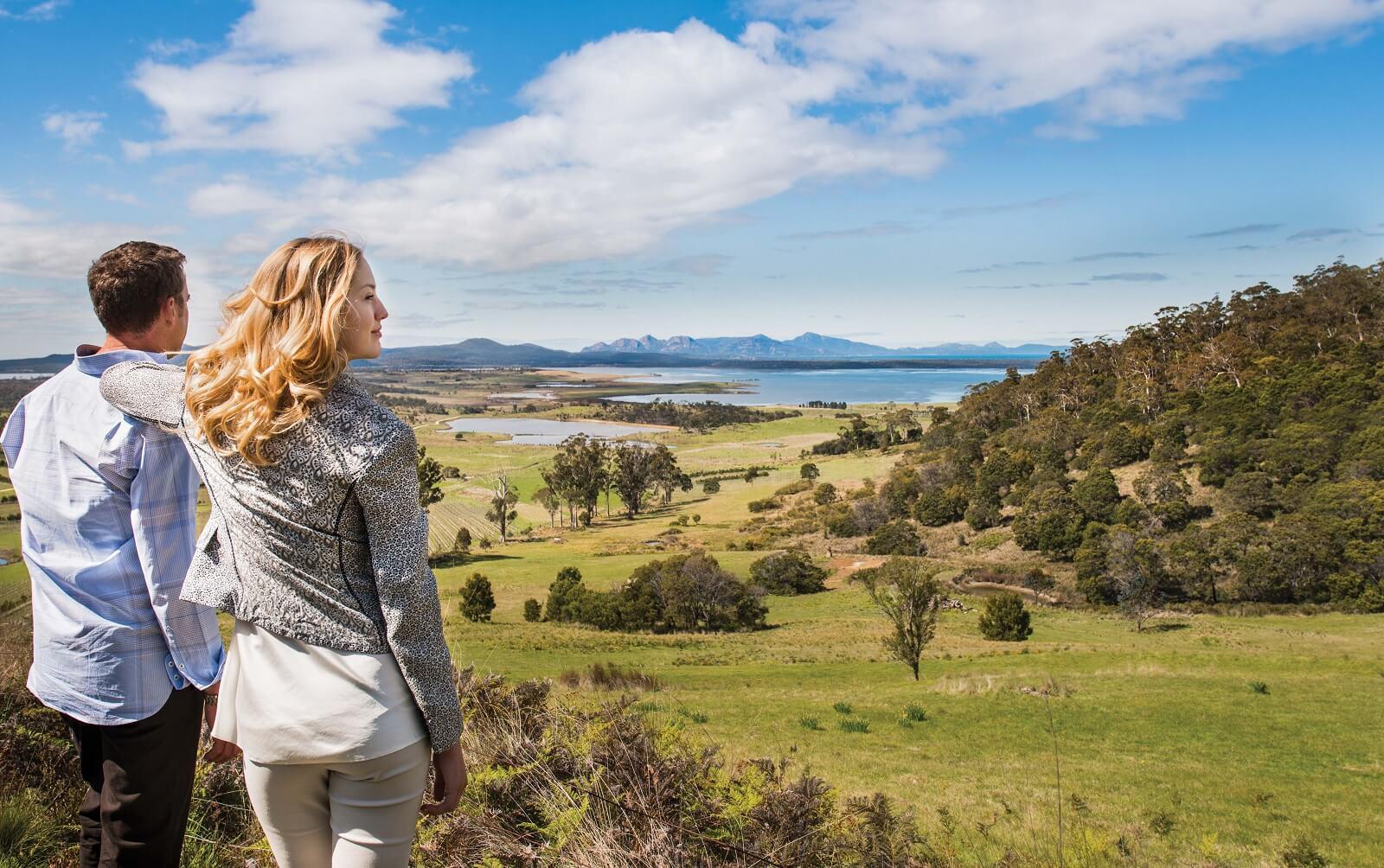 Getting Here
Getting Here
Location
The Freycinet Peninsula extends south-eastwards from Tasmania's coastline and is a fully protected national park, including the internationally acclaimed Wineglass Bay. Saffire is located on the inside of the gentle curve of sandy coastline that joins the peninsula to mainland Tasmania.
Saffire overlooks the wide expanses of Great Oyster Bay, where migrating whales and dolphins come to play; calamari and squid in-season spawn in the rocky outcrops; local farms produce fresh, succulent oysters in some of the world's cleanest waters; and fishing boats and trawlers bring in their daily catch of rock lobster, scallops and deep sea fish, dripping and salty-sweet straight from the ocean.
The dominant view from Saffire's every window is the pink-hued granite of the peninsula's Hazards Mountains, providing a spectacular and ever-changing backdrop from morning to nightfall.
Saffire Freycinet
2532 Coles Bay Rd
Coles Bay Tasmania Australia 7215
Without a hint of exaggeration, it's one of the most stunning places I've ever seen."
Getting Here
Saffire Freycinet is located mid-way along Tasmania's beautiful East Coast, just two and a half hours' scenic drive from Hobart and two hours' drive from Launceston. Hobart and Launceston are a 60-minute flight from Melbourne or 105 minutes from Sydney. Australia's major airlines conduct daily flights into Hobart and Launceston from most capital cities.
The Spirit of Tasmania also sails daily between Melbourne and Devonport, allowing you to bring your own vehicle, and there is a range of transport options for your ultimate journey to Saffire Freycinet. If you choose to drive yourself, be prepared for some stunning coastal scenery along the way. If you prefer to fly, Saffire Freycinet is just a 30–minute scenic flight away.
Chauffeured Service
Saffire offers a luxury chauffeured service for guests departing from Launceston and Hobart. Start your Saffire experience by being picked up in a limousine, Chrysler Sedan or Mercedes Maybach.
For more information and to book a chauffeured service for your stay, reach out to Saffire Guest Services.
Getting Here by Air
BY AIR – ABOVE & BEYOND
Travel in style and comfort in Above & Beyond's seven seater De Havilland Beaver seaplane and experience the beauty of the east coast from the air. Transfers are offered to and from Saffire, to the heart of Hobart City with a spectacular water landing and take off. Hobart Airport transfers are also available, which are a nice 45 minutes by air directly to your destination, taking in some of the state's most pristine views, including the world-famous Wineglass Bay in Freycinet National Park.
BY AIR – TASMANIAN AIR TOURS
Tasmanian Air Tours offer flight transfers to Saffire Freycinet departing from Hobart. A flight up the East Coast is a truly spectacular way to arrive at your exclusive accommodation. They can tailor your journey to include landings at nature reserves, wineries, distilleries or by flying over locations you would like to view from the air. Tasmanian Air Tours can arrange a helicopter transfer for you each way or arrange a fly-drive option with their partners at Drive Car Hire for you. They offer two types of aircraft to suit your needs.  As350 Eurocopter or Robinson R44 Clipper II.
AIRPORT LOUNGE
Saffire Freycinet has even catered for that moment when you step off your flight at Hobart Airport. Our Airport Lounge provides unsurpassed service, a touch of luxury – and the chance to catch your breath before your journey to Saffire Freycinet.
The Saffire Freycinet team will meet you as you disembark your flight then guide you to the lounge where refreshments and the opportunity of a relaxing shower await. We take care of every detail. Our airport lounge host can assist you with your baggage and during the check-in process.
While you are waiting, you are welcome to use the in-lounge internet facilities or log in on your own device via our Wi-Fi. You can take a moment to plan an itinerary of attractions and places to visit in Tasmania. Reading materials and television facilities are also provided.
Ask about the Saffire Airport Lounge (open daily 9am-5pm) when booking your stay at Saffire Freycinet.