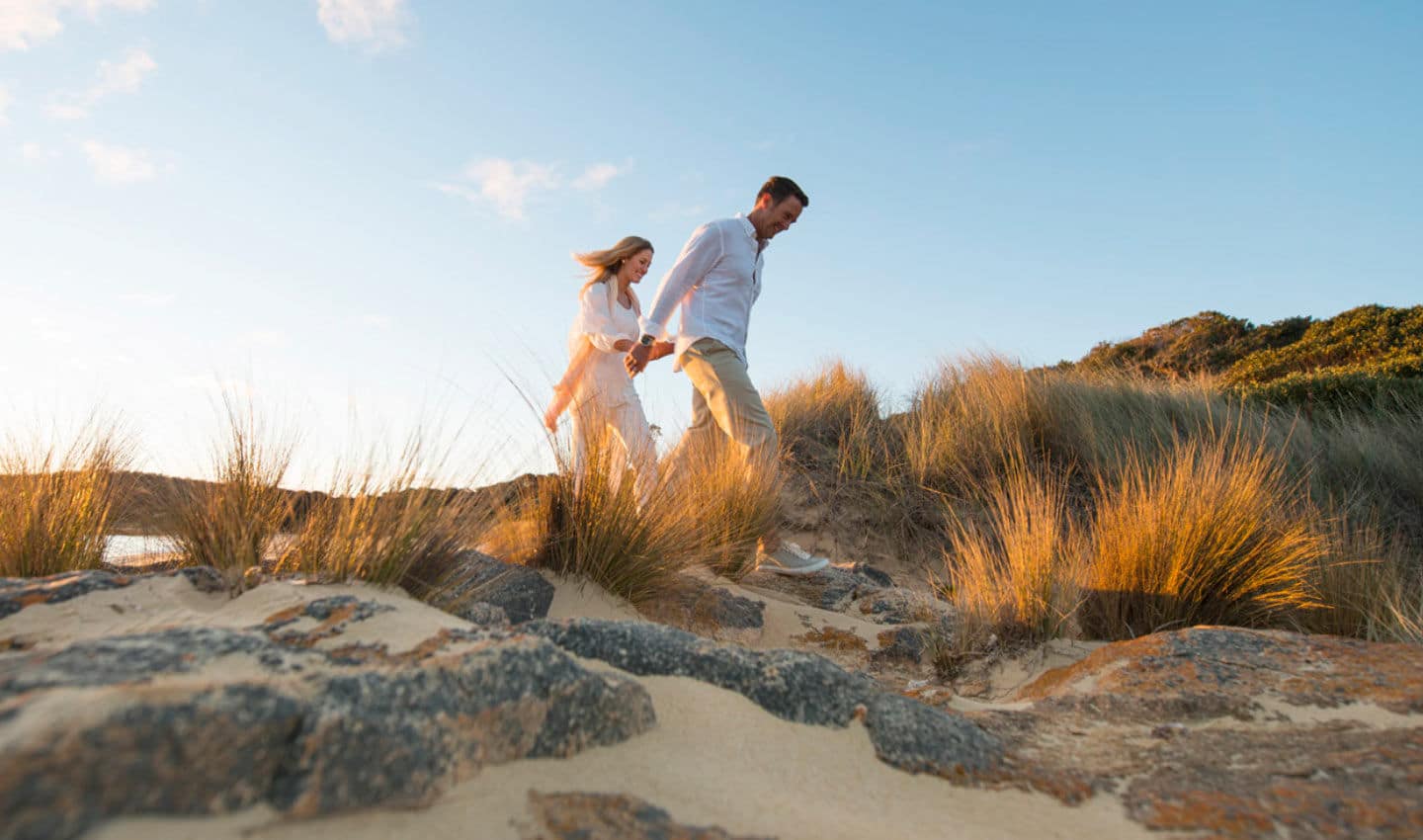 Sustainability
Sustainability
Saffire Freycinet has been built using a framework of environmental sustainability. Core principles underlying the development are "the protection of healthy sites" and the "healing of damaged sites".
SAVE THE DEVIL
Devil Facial Tumour Disease (DFTD) is a fatal and infectious form of cancer affecting the Tasmanian devil (Sarcophilus harrisii)—the world's largest marsupial carnivore.
This extremely rare form of cancer—one of only three cancers known to spread like a contagious disease—is characterised by obvious facial tumours in affected devils. DFTD, which is thought to be transmitted by infected devils biting other devils, primarily affects adult animals and, once contracted, can spread quickly with devastating results. As the cancers develop and spread in infected animals, feeding and competing for food becomes progressively more difficult. Affected animals often die from starvation and the breakdown of their bodily functions within three to five months of infection.
ENVIRONMENT
The original Saffire Freycinet site was a caravan park and backpackers' accommodation, and so had suffered a great deal of degradation and erosion. The Saffire site occupies a small portion of what had been cleared and eroded, and so a great deal of time has been spent revegetating the site with 30,000 native plants to encourage a return to its natural form.
Consideration has also been given to bushfire management, collection and conservation of rainwater, minimal use of night lighting of landscaped areas, construction management and the long-term maintenance of the site.
The landscape design draws from the concept of a coastal sanctuary, reflecting what it might have looked like prior to Western civilisation and restoring the natural ecosystems where possible.
Ongoing environmentally sustainable practices include:
Limiting further impacts on the landscape through activity
Insulation
Double glazing
Highly energy efficient hot water usage and lighting
Natural cycle air flow systems
ARCHITECTURE
Saffire Freycinet takes its inspiration from the colours of the peninsula – the pink granite of the Hazards mountains, the white beaches, sapphire waters and the grey-green of the native bushland. The aim is to connect the Saffire Freycinet experience to the surrounding environment, seamlessly joining the outside with inside to create a relaxing and rejuvenating retreat.
Saffire Freycinet's use of timber, stone and leather encourages an authentic, tactile experience, bringing the beauty and depth of nature into all facets of this Australian luxury lodge in Australia.
Where possible, quality Tasmanian products and designers have been used to create a unique sanctuary that is soothing and healing, bringing an overall feeling of wellness and calmness.
Designed by award-winning Tasmanian architect Robert Morris Nunn and associates Circa Architecture, the buildings are conceptually organic, reflecting the surrounding environment. Saffire Freycinet evokes a connection to the sea through references to waves, sea creatures, sand dunes and a flowing, organic form.
The design of Saffire Freycinet as a luxury lodge in Australia is unique and instantly recognisable, just like its location. The unmistakable peaks of the Hazards mountains are framed by the main building's roofline, and the suites below present like waves peeling on the shore.
The roof is made from curved Tasmanian wood beams, built in a ribbed structure with ply overlay, which forms a smooth underlay for the Polymea membrane. Although complex in concept, the build and look of the roof present a very simple view without dominating the entire structure of Saffire Freycinet.
The glass used has a very low percentage of reflectivity, allowing for maximum impact when viewing the surrounding coastal beauty both during the day and at night.
Wherever we were in this amazing building, we felt connected to the every-changing views."
COMMUNITY
Here at Saffire Freycinet we believe in being a good neighbour and a genuine member of the community we operate in. We've worked hard to build connections with our local community and want our guests, team and stakeholders to feel a deep sense of connection to this extraordinary place we get to call home. Whether it's learning about our work to protect the Tasmanian Devil population, discovering the history of the Oyster Bay people with our indigenous guide or leaving a positive mark on Tasmania by purchasing Saffy the devil when you leave, we're committed to bringing our guests along for the journey.
Tas Teddies
Be sure to keep an eye out for Saffy the Tasmanian Devil when staying with us at Saffire Freycinet.    
When you purchase Saffy, the proceeds go directly toward Wildcare Tasmania's Nature and World Heritage fund to help protect and care for our wild places for future generations to enjoy.  
You'll also support Tas textiles, the Tasmanian knitting mill where Saffy is made; providing employment opportunities for people living with intellectual, cognitive and developmental disabilities.   
We hope to see you at Saffire Freycinet soon!  
To find out more about Wildcare Tasmania's Nature and World Heritage fund, please visit the Wildcare Tasmania website.
To find out more about Tas Textiles, please visit  the Tas Textiles website.