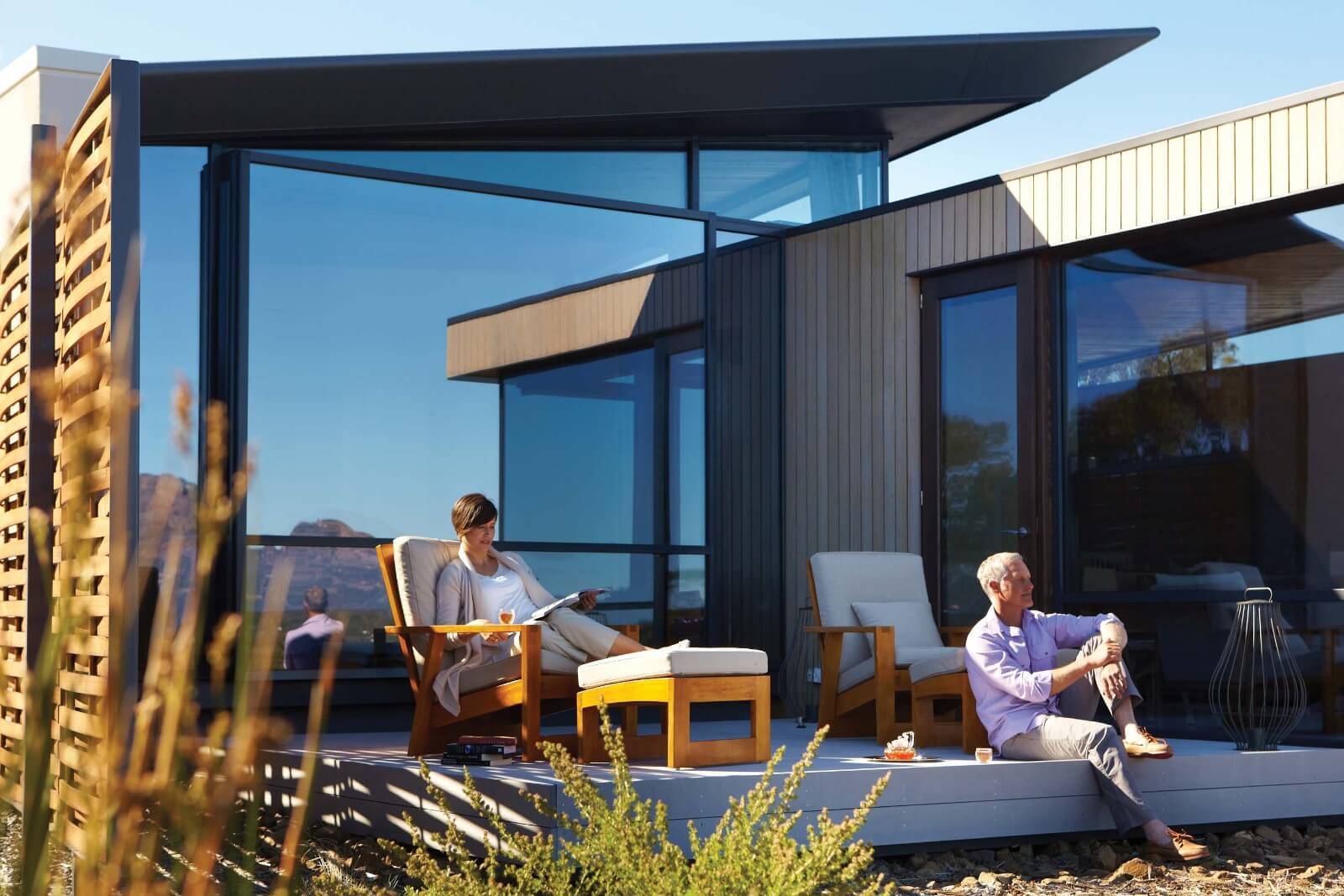 December 2018
Newsletter December 2018
Season's Greetings
Season's greetings from the spectacular east coast of Tasmania. It's an exciting time of year as we head into another vibrant festive season and watch this incredible coastline come alive in the summer sun!
We hope to see you soon. Stay safe and happy holidays.
From all of us at Saffire Freycinet
AT ONE WITH NATURE
This Summer, we want you to feel at one with nature. Be it with our resident Tasmanian devils, the playful pods of dolphins, or opening up a fresh, sweet oyster with a local sparkling wine… our unique experiences will connect you with the stunning natural surrounds of our unique Freycinet Peninsula.
Recent Awards
We are thrilled to announce Saffire Freycinet has recently won three state awards:
Best Luxury Accommodation at the Tasmanian Tourism Awards in November, and Best Deluxe Hotel Accommodation and Regional Accommodation Venue of the Year at the Tasmanian Hospitality Association Awards for Excellence in August. We're excited to be among quite a number of local businesses representing Tasmania at the Qantas Australian Tourism Awards on 1st March in Launceston, Tasmania… wish us luck!
Saffire has also just been named in the Top 20 Resorts in Australia and the South Pacific by the Condé Nast Traveler Reader's Choice Awards. We're so proud and humbled by the accomplishments of our team. The ongoing recognition from the local and international travel industry is a welcome reflection of our commitment to excellence.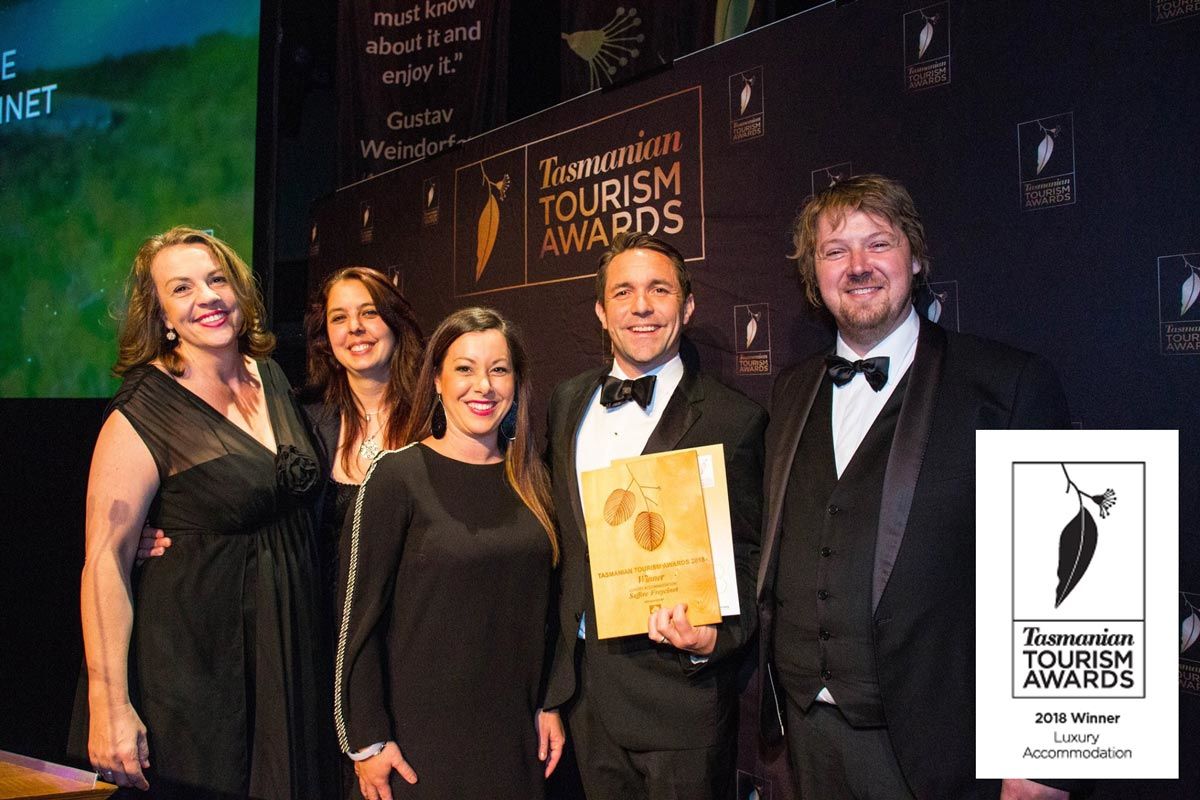 New Experience
At Saffire, we continually strive to provide our guests with an unforgettable connection to Tasmania. That's why we've spent the winter months designing a brand new, deeply immersive paddock-to-plate experience, right here on the fringe of Freycinet National Park.
We can't say any more just yet, but we're expecting widespread buzz about this sweet new offering… oh no, we've already said too much!
Watch this space… launching in January.

Introducing Iain Todd
We are thrilled to have Iain Todd on board as Saffire's new Executive Chef. Tasmanian born and bred, Iain Todd is defined by his passion for local produce, and his skill and humility when it comes to making it shine.
Having begun his career at Melbourne's Fenix and Hobart's Henry Jones, Iain became the young chef/owner of Piccalilly and then the highly acclaimed and awarded Ethos, with stints at MONA and Frogmore Creek. Above: Roast beetroot and carrot with smoked hollandaise…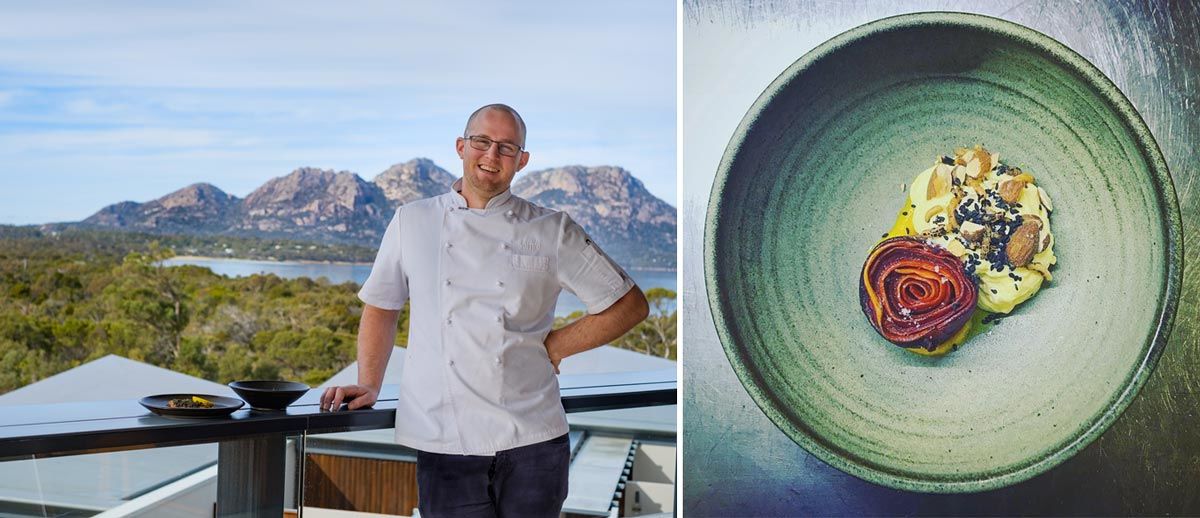 Events
We are thrilled to announce the dates for next year's dedicated sparkling wine weekend:
SPARKLING SAFFIRE WEEKEND 19 – 21 July 2019
An exclusive weekend hosted by International Wine Communicator of the Year Tyson Stelzer, showcasing the finest Tasmanian and International Wines. Join us for Saffire's signature degustation dining experiences, cocktail and gala dinners, lunch on the terrace and a prestige masterclass hosted by Tyson. Meet local winemakers, explore the spectacular landscape of the Hazards of Freycinet and relax in the stunning surrounds of Saffire Freycinet.
For enquiries please contact Saffire 03 6256 7888 | host@saffire-freycinet.com.au
News
DOUBLE THE LUXURY
The arrival of sister property MACq 01 Hotel in Hobart means you can extend your luxury encounter across two unique and authentic Tasmanian properties – perhaps even connecting the two via seaplane, from right outside. The MACq 01 Hosted Luxury Suites, complete with a bespoke butler service and immersive Tasmanian storytelling make for a seamless and exciting extension of your Saffire experience. Still Tasmania, but double the luxury…
View MACq 01's Hosted Luxury Suites
Special Occasion
Celebration season is nearly here, and we have weddings on our mind…
Do you know someone who's tying the knot? The natural beauty of Freycinet Peninsula as a wedding venue is guaranteed to transform a special day into something extraordinary. To find out more about our exclusive, tailored packages click on the button below.
Saffire Occasions
Spa News
Nestled within the heart of Saffire, our signature spa sanctuary draws on the natural elements to relax and restore you, both energetically and aesthetically. We've hand-selected some of the world's best skin and body care products; let us introduce you to La Gaia, an Australian company focusing on luxurious holistic care for both beauty and health, who have designed a product range exclusive to Saffire. We have also recently introduced Payot products, which contain complex natural active ingredients to provide ultimate hydration and anti-ageing effects.
View Spa Menu
Where to Stay in Hobart?
MACq 01 Hotel
The breeze along Hobart's waterfront carries a thousand captivating stories of those that were here before us – a cast of remarkable characters, each with an intriguing story to tell.
Find Out More
The Henry Jones Art Hotel
At the Henry Jones Art Hotel history and art collide. Hobart's oldest waterfront warehouses have been thoughtfully reimagined as Australia's first dedicated art hotel. Located in the Hunter Street precinct, the hotel blends modernity with an industrial past.
Find Out More
Follow us on Social
Stay informed and inspired by following us at @saffirefreycinet
Share your memories with us by tagging #saffirefreycinet